Sister Megan Rice, 84, along with 2 others, were found guilty of damaging the nuclear facility According to cnn, she and 2 other peace activists caused more than $1,000 in damages. The incident happened before dawn on July 28th, 2012 when all three activists cut through a total of 4 chain-link fences, they breached what was supposed to be "the most secure uranium processing
nuclear facility in the country!
It took some hours before security finally caught up to them, but by then , they had thrown up banners, spray painted messages, and even managed to splatter human blood on the building where this substance is kept. Where they wrong to convict this activitst? what do you think?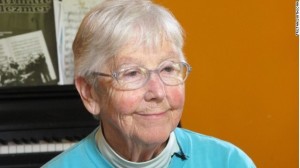 – source